Download Auto Clicker Tutorial as a PDF File.
Latest Version of MurGee Auto Clicker
Screenshot to the Right Displays the Latest Version of MurGee Auto Clicker . In case your MurGee Auto Clicker does not looks like the Screen to the right, you can Download the Latest Version of MurGee Auto Clicker. Watch MurGee Auto Clicker Video Tutorials to know what all features have this nifty utility in offer for you.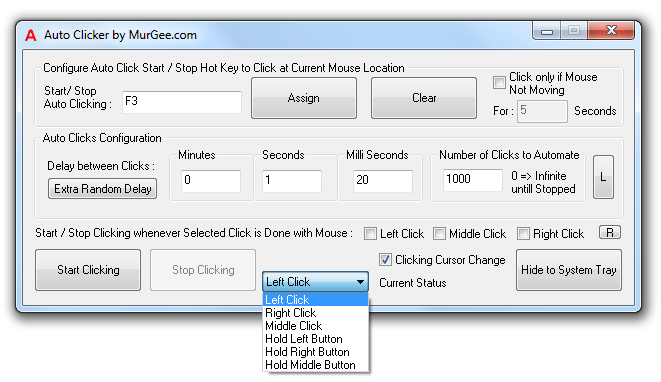 Video Shows How to Use Auto Clicker
Given below Video displays how to use MurGee Auto Clicker. You can Watch Another Video in Windows Media Player which displays the latest MurGee Auto Clicker and Displays how to Start / Stop the Automatic Mouse Clicking using a Shortcut Key Combination, On the Press of Actual Mouse Buttons, etc. MurGee Auto Clicker Video Displaying all the latest features of the software. Yet Another MurGee Auto Clicker Video Tutorial Displaying How you can Launch Single or Multiple Instances of MurGee Auto Clicker, Change the Color of MurGee Auto Clicker, Click at Mouse Location or at Fixed Location, Click with Fixed or Random Delay.
ScreenShots Display How to Use MurGee Auto Clicker
This Short Tutorial displays how to use MurGee Auto Clicker . After the Software Installation, launch the MurGee Auto Clicker using the Desktop Shortcut or from the Programs Menu & follow given below steps to use MurGee Auto Clicker Software Utility on your Windows Computer.
Using Auto Clicker with a System Wide Shortcut Key combination can be really easy.
The System Wide Shortcut Key can be used to Start the Automatic Mouse Clicking.
Pressing the System Wide Shortcut Key Again will stop the Automatic Mouse Clicking.
How to Use Auto Clicker
Simple and Easy to use Auto Clicker allows few configurable options. Given below steps outline how to use Auto Clicker.
Launch Auto Clicker with Shortcut on Desktop or from Programs Menu.
Notice the System Tray now, which will be having a new icon in red color with Icon of Auto Clicker.
Double Click the Tray Icon or Right Click on the Tray Icon to Show the Main Window of the Auto Clicker.
The Main Window of the Software allows you to configure the shortcut key to start / stop the mouse clicking automatically.
You can also define interval between Mouse Clicks and number of Automatica Mouse Clicks in the main window.
Let's create a Shortcut Key to Start and Stop the Auto Mouse Clicking, press any keyboard Key which you would like to use in the white colored edit box provided and click on Assign.
In this How to Auto Clicker, let's use Ctrl + E as the Shortcut Key for Starting and Stopping the Auto Clicker.
Now Hide the Auto Clicker Window by either clicking on the Cross button on the top right or click the Hide to System Tray Button.
Now Move the Mouse Cursor where you would like to click the mouse automatically and press the Shortcut Key (Ctrl + E in this How to).
Press the Shortcut Key again to stop the Auto Clicker.
Advanced Options of Auto Clicker
In case you Want to Click at More than One Location, you can Either Enable Multiple Instance or Launch the Advanced User Interface of Auto Clicker.
MurGee Auto Clicker Registration
The Auto Clicker Software Download is offered on a free to try basis. You can try it for free for upto 20 times and after that you musr register your copy to keep on using the Software. All future updates to the application are free. Register your copy of Auto Clicker Now by paying in $5.00 Only using Credit Card, Debit Card or PayPal Account.
---
Visit MurGee Home to find more Mouse Automation Software Utilities for Creating Mouse Automation Script, Initiating Mouse Clicks with Command Line, Auto Mouse Mover and many other Software Downloads.